About
Centre of Excellence in Green Hydrogen (CoE-GH) is a state-of-the-art knowledge facility to bridge the gap between government, academia, and industry setup by PHD Chamber of Commerce and Industry (PHDCCI) in joint collaboration with Greenstat Hydrogen Pvt. Ltd. as a knowledge partner. The centre aims to facilitate partnerships and act as a connecting link for bringing together researchers, academics, innovators, and MSMEs for capacity building. The centre intends to assist the SME sector that focuses on the green energy transition and is interested in starting a new business in the green hydrogen sector as well. This is the only facility of this sort in India.

MoU signing between PHDCCI and Greenstat Hydrogen India Pvt. Ltd. on 26 th October 2022 at PHD House, New Delhi.
Vision
To become a nodal knowledge and capacity building centre for MSMEs and aspiring workforce for the entire Hydrogen value chain in building an integrated Hydrogen ecosystem and clean energy transition in India through green Hydrogen.
Focus Areas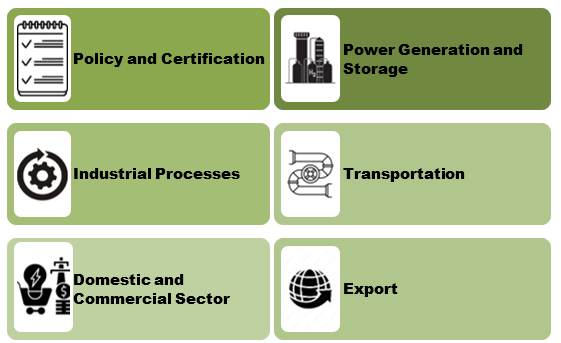 Objectives
The objectives of the centre are as follows:
Educate and train the various industrial sectors of the country about the scope, benefits, and deployment of a Hydrogen economy.
Identify technological gaps for broad market adoption of Hydrogen.
Develop and deliver innovation programs to fill the identified technological gaps with international cooperation.
Facilitate partnerships and alliances between various stakeholders in the Hydrogen ecosystem.
Create skilled manpower to work in Hydrogen production technologies as well as storage and transportation of Hydrogen through training and capacity-building programs.
Provide facilities and services to the MSMEs in the green Hydrogen sector and ease their communication and transactions with various statutory and regulatory bodies.
Set up pilot and demonstration projects for bringing awareness, and to initiate research, and development in various Hydrogen technologies through partnership.
Strong policy advocacy in green Hydrogen for the development and implementation of the Hydrogen value chain in India.
Bring awareness on compliances related to Hydrogen safety as per the international, national, and regional regulations and codes and standards across the MSMEs.
Activities under CoE-GH
Training to the MSME sector through workshops about scope, benefits, and deployment of a Hydrogen Economy
Awareness programmes on risks associated with Green Hydrogen and ways to minimize it
Module based workshops on Production distribution, transportation, and storage
Consultancy
To provide support to Nepal, Bangladesh, Sri Lanka, Bhutan, African and other developing countries
Technology visits
Pilot / demo plants set up
Facilities at the CoE-GH
Technology expertise from Greenstat, Norway
Online / physical training facilities
Expert guidance on energy transition
Data bank on Hydrogen, market, local industries, technologies etc.
Export of trained manpower
Trade and Investment
Building competencies for personal excellence by Art of Living Foundation
Green Hydrogen Portal
https://www.greenhydrogen-india.com/
Brochure
Membership