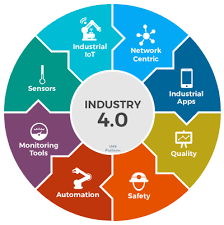 The objective of this Conclave is to create awareness about Smart Manufacturing, share the technological advancement and best quality practices on process, products and maintenance in the manufacturing sector.
New and emerging trends in product and process technologies such as smart manufacturing frameworks that include Industry 4.0, digital communications, robotics and artificial intelligence, flexible and agile supply chains, and quality levels zeroing in to near perfection are seeing wide scale integration of manufacturing and information technologies, big data analytics, automation and aggregation. Focus on quality has become the mantra and an absolute necessity in today's globalised world to survive for any company engaged in manufacturing, more so if engaged in exports.
The Regional Conclave aims to showcase the next generation manufacturing i.e. Industry 4.0 and the quality management systems associated with it- through expert talks and case-presentations, and the challenges faced in India for meeting the quality expectation of the global customer.
Some of the best minds engaged in Smart Manufacturing, Industry 4.0, Creating a Quality culture, product innovation, process automation, service and diagnostics and breakthrough improvements in product and service quality will congregate at the conclave to lead the discussion and evolve the next steps for the next engineering revolution in India.
WHY ATTEND?
• Get exert advice on AI, automation, IoT, big data technology and Quality Control
• Get firsthand information on what works in implementing and maintaining IoT in enterprises
• Get updates on quality policy and accreditation, to expand knowledge, encourage compliance, and encourage best practices
• Identify effective maintenance strategies for overall improvement across organizations
• Get advantage of unparalleled networking
• Learn from domain experts on maximizing digital opportunities in smart manufacturing and adoption and future trends in manufacturing
<!
Sessions
9.00 a.m. – 10 a.m.

Registration & Tea

10 a.m. – 10:30 a.m.
Inaugural Session

Esteemed Speakers: 

10.30 a.m. – 11:45 a.m.
Theme:
Smart Manufacturing & Industry 4.0

Discussion Agenda:
Industry 4.0 is the convergence of the cyber-physical systems which is a shift from linear operations to an interconnected system with holistic integration through the entire value chain. Smart factory represents a transition from traditional automation to a connected system of data and production systems.
Areas as advanced planning, scheduling using real-time production and inventory data are some of the features of smart factory with multiple facets that manufacturers can leverage to remain competitive in the global marketplace.
Esteemed Speakers: 

11.45 a.m. – 12.00 noon

Networking Tea

12.00 noon – 1.15 p.m.
Theme:
Quality Culture to enhance performance

Discussion Agenda:
Progressive organizations continuously improve the quality of their products and services to stay ahead in an increasingly competitive business world. Quality principles are harbinger of in organizational practices and behaviors.Foundation of any quality improvement is developing a quality culture or mindset within the enterprise. Quality culture starts with leadership that emphasizes continuous improvement of processes which is strongly correlated with impact.

Esteemed Speakers: 
Speakers will be arranged by QCI for this Session

1.15 p.m. – 2.00 p.m.

Networking Lunch

2.00 p.m. – 3.15 p.m.
Theme:
Predictive & Preventive Maintenance

Discussion Agenda:
Organizations need strategies to maintain plant assets and increase their lifespans. Strong maintenance plans in place keep plant operations running smoothly. With increasing industrial demands to get more output and decrease operating costs, investing in predictive maintenance and condition monitoring tools is the mainstay.  Predictive and Preventive Maintenance provide a framework to make right decisions and maintenance tasks for accessing the deterioration of devices and steps needed to restore the inherent reliability of a device. Appropriate balance of maintenance approaches is a key to minimize asset downtime and repair costs while maintaining safe environment for workers.
Esteemed Speakers: 

3.15 p.m. – 4.30 p.m.
Theme:
Improving customer engagement through effective technologies

Discussion Agenda:
Effective technologies help to identify the value creation opportunities of customer engagement and develop the strategies, processes to structurally engage customers to maximize the co-created value. Smart Technologies in a variety of manufacturing industries, can be segmented and customized for businesses from various touch points to enrich the customer's experience.
Esteemed Speakers: 

4.30. pm – 5 p.m.

Networking Tea